Hi-dynamic recording on public transport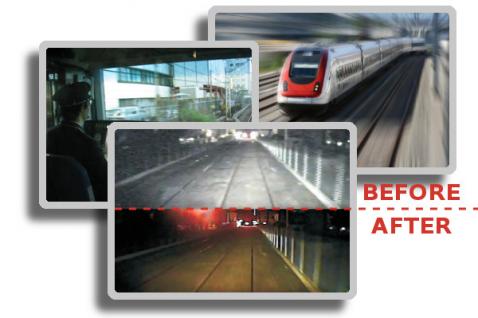 Features
System certified for railway applications
Removable video storage device
Hi-dynamic camera suitable for night time recording (hi-contrast scene)
Needs
The need is to record a tram from the pilot cab during the normal operations, in order to record infractions on railway crossing. The customer points out the problem of hi-contrast night time scenes that dazzles a standard camera, generating unusable recording.
Day/Night operations
Operative on public transports
Solution
EOPTIS developed a solution based on a Hi-dynamic range camera and installed it on the customer's vehicles in order to validate the performance by mean of a comparison against a traditional.
Hi-dynamic range camera
Digital recording unit with high storage capacity (last 100 hours recording
Benefits
The images recorded during the test phase highlighted the capability of EOPTIS' camera to globally preserve colors in hi contrast scenes (light spot on dark background). Thanks to the high dynamic of the system, the recorded images can be used as infractions history even in the night time.
Hi quality images in every light conditions
Configurable solution