Multispectral Imaging Camera | MAIA
Applications
| | | |
| --- | --- | --- |
| | | |
| Precision farming | Vegetation indexes mapping | Field healt status monitoring |
| | |   |
| Environmental monitoring | Pollutant or hazardous material leaking detection |   |
Description
MAIA is the most advanced multi-spectral imaging camera, specifically designed for use abroad Unmanned Aircraft Vehicles (UAVs), aircraft and land-vehicles  in precision farming and environmental monitoring applications.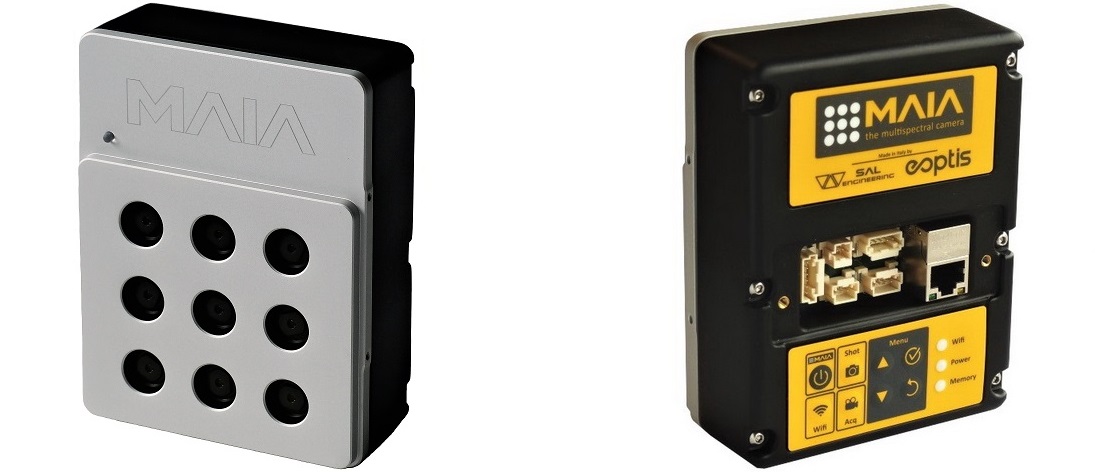 MAIA is based on an array of 9 imaging sensors, each coupled with a band-pass filter that precisely defines the spectrum of the radiation to be detected.
The sensitivity spans the visible (VIS) to near-infrared (NIR) region [from 395nm to 950nm] and bands match those of the WorldView-2 or Sentinel-2 satellites, allowing the multi-spectral camera to be successfully deployed for precision farming and environmental monitoring applications.

The camera is supplied with the geometrical calibration data of each lens. The imaging sensors features 1.2Mpix resolution, high-sensitivity and global shutter technology, allowing the simultaneous acquisition of images free from motion artifacts at a frame rate up to 5Hz.
MAIA can be interfaced to an external GPS to trigger the acquisition start and to get the position of the camera at the time of shot. The geo-tagged images are thus stored in an internal solid state non-volatile memory.
MAIA is developed in Italy by Eoptis in conjunction with SAL Engineering and Fondazione Bruno Kessler.
Benefits
Better inspection of plant health and fertilization
Early detection of diseases or symptoms of nutrition deficiency
Optimization of pesticide supply
Calculation of yield with agronomic indexes (NDVI, GNDVI, SAVI...)
All technical specifications can be found in MAIA brochure.
Software
The data pre-processing software bundled with MAIA allows the user to merge the single-band images at each shot into a unique multi-layer image with pixel-to-pixel accuracy.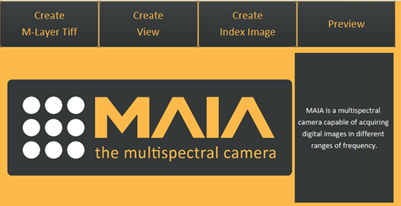 The software features also the computation of standard indexes (NDVI, SAVI, …) and the user can easily define custom indexes.
The multi-layer images can be exported to formats widely accepted by third-party advanced analysis software.