Benchtop colorimeter | CLM-196
Applications
| | | | | | |
| --- | --- | --- | --- | --- | --- |
| | | | | | |
| Food & beverage | Cosmetics | Paints | Analysis Labs | Chemicals | Pharmaceuticals |
Overview
CLM-196 is a benchtop tristimulus colorimeter in a compact stainless steel case.
Designed for colorimetric detection 60 times more accurate than human eye, CLM-196 colorimeter it's flawless for measurements for powders and liquids.

Thanks to a (45°c:0°) measurement geometry and very uniform illumination provided by integrated LEDs, is ensured long-term stability and minimizing user calibration.
Benchtop colorimeter is powered and interfaced by USB port to a PC or a laptop. The included application software is compatible with Microsoft Windows operating system.
Performed the sample measurement, application software allows you to analyze and process data (please refer to Software section).
Benefits
Objective sample evaluation
Quick product qualification
Intuitive software interface for fast and simple measurements
Steinless steel case suitable for the laboratory
Technical specifications can be found in CLM-196 brochure.
Models
Standard equipment benchtop colorimeter CLM-196.P001A:
Color measurement system
White calibration standard
One glass sample holder
NIST-traceable Calibration certificate* with performance report
Application software and device drivers on USB memory
Hard carrying case, IP67 dust- and water-proof
User manual (booklet on USB memory)
1-year international warranty
* Instrument standard assignment in accordance with National Institute of Standards and Technology (NIST) following practices described in CIE Publication 44 and ASTM E259 (Standard Practice for Preparation of Pressed Powder White Reflectance Factor Transfer Standards for Hemispherical and Bi-Directional Geometries).
Accessories
Transparent liquids measuring kit
Optical glasses for samples
Extra hard carrying case IP67 dust- and water-proofcase for colorimeter
Services
Eoptis' services available:
Remote or on-site technical support service
Maintenance services as inspection and recalibration
Extensible Eoptis warranty
Data acquisition for custom database
Customizing CLM-19X Interface Software (ex. adding functionality, new color spaces, additional indexes)
Custom template for data report
More configurations and customizations are available on request: contact us.
Software
CLM-19X Interface software is user-friendly and works together with the colorimeter. It processes and instantly analyzes CIE L*a*b values ​​acquired with the instrument.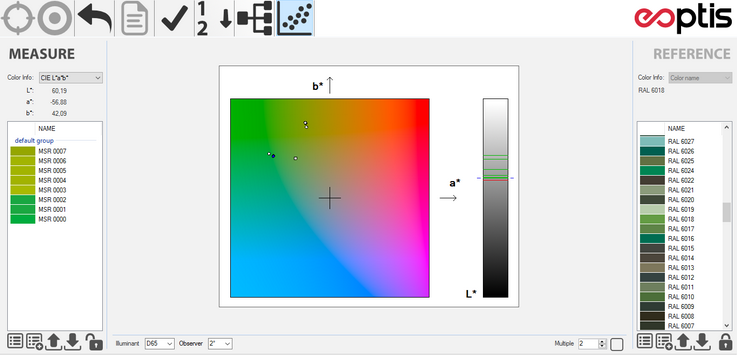 Operating systems
CLM-19X Interface is compatible with following Microsoft operating systems (32bit and 64bit):
Windows Vista
Windows 7
Windows 8
Windows 10
Language
English
Italian
Chinese
Portuguese
Features
Color Coordinates
Native CIE L*a*b color values. Other color spaces are available: CIE XYZ, CIE L*u*v, CIE L*C*h, Yxy, sRGB.
Color Difference
Instantaneous absolute color difference DE*ab and subcomponents Da, Db, DL, DC*ab between a sample and its reference.
CIE L*a*b graph
All measurements are represented as points in the entire color space.
Check

Pass / fail quality control on finished product or acceptance on raw materials.

Up to 3 adjustable thresholds with automatic reference color search capabilities within a database.

Matching

Automatically search for 5 closest colors to a color measurement within a pre-loaded database.

Classification

Materials classification (ex. lots) by comparing the sample with multiple selected references (up to 5).

Multiple measures

(average)

Average measure calculation from multiple acquisition on a surface.

Setting the number of measurements by the user.

Ideal for handling non-homogeneous materials.

Illuminant and observer
Standard illuminant (A, C, D50, D55, D65, F2, F7, F11) and observer (2°, 10°).
Standard database
RAL and Pantone database included (many other on request…).
Custom database
User can create and manage their own database.
Data export
.pdf and .xml report format (Excel-compatibile for more data analysis or graphs creation).
Report
Report .pdf and .xml (Excel-compatibile) formats with customizable logo.
Project management
The user can save the setup as a project. At opening all settings will be re-loaded automatically.