Industrial colorimeter | CLM-195
Applications
| | | | | | |
| --- | --- | --- | --- | --- | --- |
| | | | | | |
| Plastics | Food & beverage | Cosmetics | Paints | Rubber | Packaging |
| | | | | |   |
| Printing | Automotive | Ceramics | Texile | Tanning |   |
Overview
EOPTIS offers the CLM-195 industrial colorimeter a device for touchless colorimetric measurement, able to provide accurate and repeatable information about the colour of the surface under inspection.

The instrument is a rugged system, designed to be installed in production lines and suited to 24/7 operations in industrial environment.
Colour measurements can be performed on the surface of a wide range of matte and glossy materials, thanks to a (45°c:0°) measurement geometry and the very uniform illumination provided by integrated LEDs.
Measured data (last valid measure or moving average) can be analyzed on-board, to have an immediate pass/fail result, that is also made available on the digital I/Os.
Data can also be sent to a remote calculator for deeper analysis, storage (datalogger feature) or for report generation.
Examples of controls
Classification and sorting
Defective products detection
Evaluation of homogeneity of the material - tendency to variation
...
Benefits
Automatic colorimetric inspection
Real-time production analysis
Standardized quality control
Control up to 100% of production
Time saving and resource saving technology
Technical specifications can be found in CLM-195 brochure.
Models
CLM-195 is available with two variants:
CLM-195 sensor + demo: for customer who want to develop itself the application or ask at Eoptis for custom development.
CLM-195 sensor + software:: the best solution for a automatic production control system.
Standard equipment industrial colorimeter cod. CLM-195.P001A:
Color measurement system
White calibration standard
Packaging
Example source code
NIST-traceable Calibration certificate* with performance report (on USB flash drive)
User manual (booklet on USB flash drive)
1-year international warranty
* Instrument standard assignment in accordance with National Institute of Standards and Technology (NIST) following practices described in CIE Publication 44 and ASTM E259 (Standard Practice for Preparation of Pressed Powder White Reflectance Factor Transfer Standards for Hemispherical and Bi-Directional Geometries).
Accessories
External cable for serial interface, 2 meters length
External cable for serial interface, 5 meters length
Fanless PC for processing
Services
Some available Eoptis services:
Extended Eoptis warranty
CLM-195 Interface software customization (es. new functionality, new color spaces, additional indexes...)
...
Software
CLM-195 Interface software has been developed by Eoptis to meet the needs of many customers: a complete product at a low cost.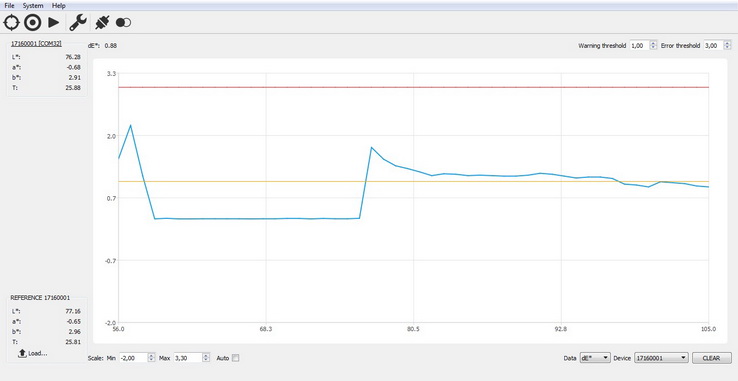 Operating systems
CLM-195 Interface is compatible with following Microsoft operating systems (32bit and 64bit):
Windows Vista
Windows 7
Windows 8
Windows 10
Language
Features
Control points
The software can handle up to 3 colorimeters simultaneously. The master can control GPIOs (1 input, 2 outputs).
Interface
RS485 serial port (up to 3 independent) or USB 2.0 (with usb2serialadapter).

Acquisition Mode

- Software button

- Continuous acquisition with time interval (min 0.5s, max 60s)

- External trigger: monitored by software (polling GPIO IN) or adjustable active face or on / off signal for at least 250ms

Types of datalogging

- CIE L*a*b independent values ​​read by one or more colorimeters

- Average value calculated on active colorimeter acquisition

Reference acquisition

- User measurement

- database upload

Measure vs. reference comparison
User thresholds setting (deltaE, deltaC, deltaAB, deltaL…)
Activating thresholds

Warning and error message on GPIO OUT from master colorimeter:

- warning: delta measurement / reference over threshold 1

- error: delta measurement / reference over threshold 2


Measurements chart

Instantaneous CIE L*a*b values ​​and timing graph. Delta indication of individual components.

Data export
Exposure data in .csv (Excel-compatible) format ​​for further analysis